About Tile Carpet
The story of Carpet Tile
The first piece of carpet tile was made by a small Dutch company called Heuga. It was in mid-nineteenth century, the company's initial business was making bicycle seat covers with animal hides. They purchased a needle punch machine which enabled them to use the horse and hog hair yarn to manufacture wider width fabric ideal for carpet tiles, later they put an Asphalt (Bitumen) backing on their fabric to give it stiffness and further durability plus dimensional stability and they cut it into 10 inch squares, so the homes and commercial buildings using their product didn't create the waste. But there was a major drawback, each tile would shrink when cold, or expand when warm.

In the United States, it was a textile company called "Collins & Aikman" who firstly moved into carpet tile manufacturing. In the 1960's Milliken, at that time, the most powerful textile company in the USA also started into the carpet business. In order to explore their technology and further expansion, a young bright employee, Ray Anderson was sent to Europe, who formed a new company after he left Milliken, the company was the former of "Interface" that the most famous company of carpet tile in the world today. In 1988, Heuga, the original manufacturer of carpet tile was purchased by Interface, and went on its sale under the brand name of FLOR.
Why should we choose carpet tiles? The answer is very simple, it's just because "EASY":
1. Easy to transport and make storage: carpet tiles are usually modular tiles sized by 50*50cm and packed in boxes of 20 pieces. The total weight is about 20-25kg per box, so it is easily transported from A to B. In addition, due to their modular format, carpet tile provides ease of storage capability.
2. Easy to install: carpet tile suits to any interior environment, can be easily lied on top of laminate, vinyl, concrete without underlayment.
3 .Easy to replace: If you get a tough stain or worn in traffic patterns, just replace the tiles as opposed to the whole room.
4. Easy to clean: a regular vacuuming will help keep tiles clean and in good condition for longer.
5. Easy to own a unique flooring spaces: carpet tiles come in many color options with unique patterns, by combining styles, colors, and shapes you can always find the right look and feel you like.
Besides the above, carpeted floors cushion the impact of slips and falls, dampen noise, so it fits most public places of heavy traffic or quietness like hotel, office, exhibitions ,conference room, Airport terminal, library, hospital, school, Gym ,church, Bar, Casino and so on.
How to install carpet tiles?
Carpet Tiles are not intended for installation on wet surface. The preferable temperature should be approximately 18-35 ℃ with a relative humidity of 15%-60%. And a pH range of 5-9 is satisfactory. If laid directly on the concrete floor, do not exceed 8% moisture content.
With the new adhesive technologies that manufactures now have, you can install tiles as a floating system with sticky tabs and not have to spread adhesive, cutting down on odor and install time.
Tile can be installed in a multitude of ways – Checkerboard, Monolithic, Brick, Ashlar or Random.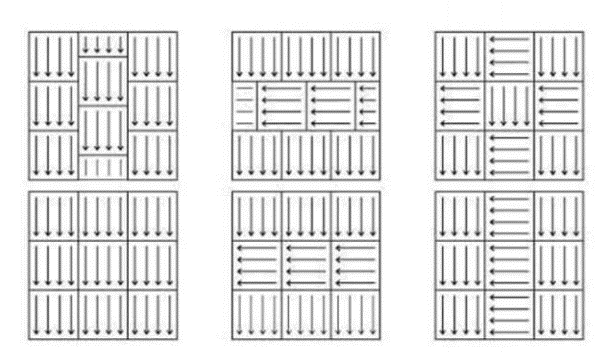 The following picture shows to install tiles as a floating system with sticky tabs: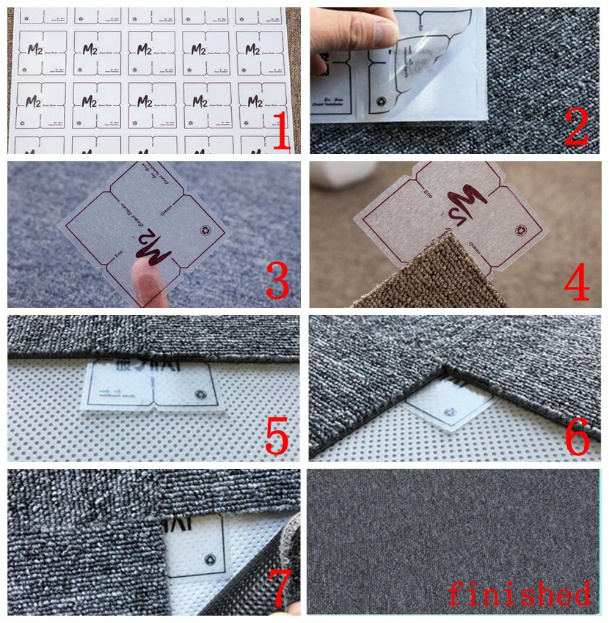 Notes in carpet's using:
(1) New opening pile carpet from beginning can have light float hair. This is normal phenomenon.
(2) The carpet surface is guarded against sharp weapon and smoke.
(3) Do not worry about worm-damages because there is no any organic ingredients with the nylon and polypropylene carpet tiles, so don't need to lay aside repellant which does harm to carpet and human body.
(4) The blob on the carpet should promptly be cleaned. The blob will become more difficult to remove as time passes.
(5) It is supposed to put pad against dirt on the entrance in order to keep carpet clean.
(6) After contacting with chemicals, carpet can possibly produce chemistry dirt or fade. Therefore, it is supposed to avoid carpet to be sticked in by commonly used chemical, like detergent, skin care cosmetic and so on.
(7) The carpet cannot for a long time be exposed to sunlight, or they can fade.
(8)The carpet needs frequently to be cleaned by cleaner, because the dust accumulating in the carpet can cause attrition to textile fiber, and make carpet become gloom. In the staircase, the hall, the corridor and place with lots of people, each week it is supposed to be cleaned by cleaner two or three times.
Get the latest price? We'll respond as soon as possible(within 12 hours)